By the end of 2014, Medicologic has strengthened the organisation within QA/RA and Medical Device Development with a view to the company's continued development and positive growth.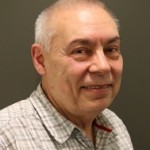 Frank Petersen
Came on board as senior professional consultant QA/RA on December 1, 2014. Frank has more than 40 years' experience within quality control, quality assurance, development, marketing, support and approval of medical devices. For the last 7 years, he has worked as chief auditor of the Danish accredited agency Presafe (previously DGM).
His many years of experience from both manufacturers of medical devices and accrediting authorities contributes to his extensive knowledge about setting up efficient quality systems, CE marking, and FDA approval of medical devices.
Having been employed with Radiometer and Chempaq, he has more than 15 years of experience with medical devices for in vitro diagnostics.
During his study, and because of his chemistry experience (as laboratory assistant, chemical technician and studies at DTU), he has contributed successfully to development projects, clinical/technical marketing and support, setting up and certifying quality systems, and approval of medical devices.
[divider]
Troels Böwadt Arnved
Started as design engineer consultant on December 1, 2014. Troels has an education in design and innovation at the Technical University of Denmark, and during his study he excelled with his talent for and commitment to product development.
As a part of his studies, he developed a product for digitisation of Denmark's largest lung clinic, reached the finals in the annual start-up competition Venture Cup, and developed service modules for the start-up company Volt ApS.
Through his thesis, usability came on the agenda at Oticon A/S, where they have now obtained useful tools for development of lower-priced and more user-friendly hearing aids, which meet EN62366 Medical Devices, Application of Usability.
Contact details
[divider]