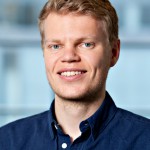 With a view to the company's continued development and positive growth within Research and development, we expanded our R&D team with Rasmus Funk.
Rasmus has more than 5 years of experience with medical device product development. He has expert knowledge on single use devices and surgical equipment.
His expertise ranges from the front end requirement mapping and conceptualization through to final production setup.
By helping many projects getting from idea to product Rasmus has gained extensive knowledge on Design for Manufacturability. Especially through cost optimization of products in the competitive single use medical device market.
Rasmus has great experience with minimal invasive instruments and thus also the challenge of manufacturing micromechanical components while ensuring tolerance based robust functionality. He also has great knowledge on cutting edge additive manufacturing and rapid prototyping technologies.
Rasmus has an education in Mechanical Engineering from the Technical University of Denmark with an emphasis on user driven product development and design.