In May 2017 the new Medical Device Regulation (EU) 2017/745 was adopted, replacing Medical Device Directive 93/42/EEC.
Are you ready for the new Regulation?
The new Regulation is based on a wish to ensure increased safety and quality of medical devices that are sold and distributed within the EU. The new Regulation deals both with products already CE marked as medical devices and with products under development.
The new Regulation has led to significantly increased requirements, also within safety and efficiency. The three-year transition phase from the Directive to the Regulation entering into force means that manufacturers have until May 2020 to meet the new Regulation requirements.
How do you get started?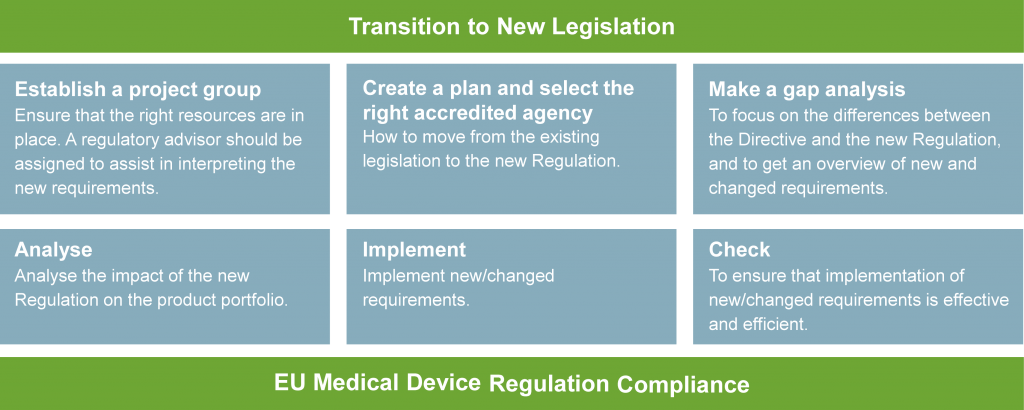 [divider margintop="5″]
Important changes to be aware of
• Classification system changes – more products must be approved
• Strengthened requirements for clinical documentation
• Strengthened requirements for technical documentation
• The "person responsible for regulatory compliance" is required to have documented competences within RA/QA
• Strengthened requirements of the "economic operators" in the entire supply chain (importer, distributor, manufacturer, European representative)
• Common specifications
• PMS, vigilance, surveillance – increased post-market requirements
• Unique device identification (UDI) – increased traceability requirements
• Safety and performance – increased documentation and testing requirements
Get answers to your questions and be off to a good start
At Medicologic we solve regulatory challenges for the medical device industry every day.
Contact us for an informal meeting and a plan for your transition to MDR.
[divider type="line" margintop="5″ marginbottom="5″]
Michael Funder
Managing Director – B.Sc Engineering
Direct (+45) 20 64 41 46
mf@medicologic.com