Are you challenged by increasing the quality of life for others and enjoy having the freedom to be innovative?
This job does exactly this, and gives you the opportunity to have an impact on the medical devices of tomorrow.
With a strong pipeline of challenging projects we are seeking a passionate product developer to join our Research & Development team in Copenhagen. Over the last years we have experienced an increase in demand for our expertise in developing cutting edge medical devices.
Reporting directly to the R&D Team Manager, your main tasks will cover project management as well as development through mechanical design, material selection and 3D modeling. Your daily work will also include a close collaboration with our Quality Assurance and Regulatory Affairs Department.
Desired Skills and Experience
Our preferred candidate has several of the following professional and personal competencies and qualifications:
Qualifications
• You possess a creative and curious approach to mechanical development
• You have a solid understanding and experience in product development including mechanical design
• You have a thorough insight into plastic technology covering materials, tolerances, injection molding, etc.
• A born team player, but also with a drive to solve projects and problems on your own
• You feel confident in communicating with clients and stakeholders
• Experience within project management would be an advantage
Competencies (professional and personal)
• You hold a relevant degree within Engineering
• You have 3+ years' experience from medical device development and/or from the consultancy industry
• You are an experienced user of Creo or Solid Works
• You can manage projects from start to finish
• Fluent in Scandinavian and English (written and spoken)
Join a leading medtech consultancy
Our customer-centric consulting approach will give you an insight into cutting edge medical device development both in Denmark and internationally. We offer a challenging environment with exciting opportunities. We are very ambitious and you will be an important player in helping us realize our growth plans.
We look forward to welcoming you in our engaged, warm and professional environment with sparring from highly experienced experts as well as social events amongst colleagues. We wish the daily work experience to be a steady path towards professional as well as personal growth. Of course, we offer a competitive compensation package including pension and insurance.
Contact information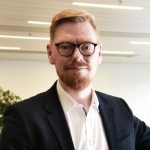 If you want to know more about the job you are welcome to contact
COO Martin Thomsen on +45 22 47 72 12 or mt@medicologic.com.
We also recommend that you visit our website www.medicologic.com
Send your application
Send your application including CV to mt@medicologic.com.
We're looking to fill the position as soon as possible and will be conducting interviews on an ongoing basis.
We look forward to hearing from you.