Ensuring that your company complies with all of the regulations and laws pertaining to your business can be challenging.
Still, working with global or local authorities and regulatory agencies on specific issues affecting your business is an important part of bringing new products to market and continuously apply to revised laws and regulations.
Based on insight and deep understanding of the medical device business our consultants can ensure a well-structured and time reducing regulatory process from first idea to post market surveillance.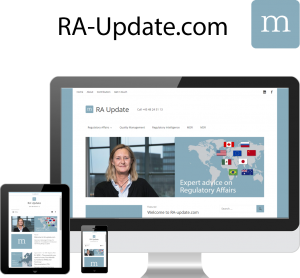 Sign up-to our RA blog – RA-Update.com
Being your global partner within RA/QA we would like to share our new RA blog with everybody who has an interest in what is going on in the complex world within regulatory affairs and medical devices.
Keeping you up-to-date with RA/QA
During the last 10 years, the evolvement of legislative requirements within the RA/QA and medical devices area has expanded massively. Working within the RA/QA area being on forefront with new and constantly changing legislation can be a daunting challenge – we would therefore like to help you gain an overview.
On RA-Update.com we will post news and articles describing different issues within RA/QA enabling you to be on the forefront with legislative issues worldwide.
Sign-up and be notified when news is online
We can help you with
Go to market strategy
Financial validation
Business case
Market and competitor analysis
Regulatory Pathway
Definition of Medical Device/IVD
Classification of Medical Device / IVDs / Combination Products
Regulatory Pathway
CE mark / FDA / International Registration
Preparation and submission of international reg. applications
Preparation and submission of US FDA regulatory documentation
CE labeling according to MDD/IVD – MDR/IVDR
Re-registration (Int.) / re-certification
PMS – Post Market Surveillance
PMS – Post Market Surveillance
Vigilance
Labeling
Clinical Evaluations
Biocompatibility Studies
Re-registration and Re-certification
Re-registration (Int.) / re-certification (CE)
Regulatory impact assessment of design changes
Qualified Person
EU Representation
EU authorized representative
Qualified Person
ECO / DCO
Regulatory impact assessment of design changes
Liaison with National Regulatory Authorities

Ask Me
Randi Hauerberg
Principal Advisor/Team Lead
Regulatory Affairs
Direct (+45) 22 47 01 55
rh@medicologic.com
BOOK A VISIT

Ask Me
Vibeke Harbud
Business Development Consultant
eMBA, HD(A)
Direct (+45) 26 11 70 33
vibeke.harbud@medicologic.com
BOOK A VISIT