Finding the right solution can be a tricky process. However, once you overcome the many obstacles and find a successful way to move forward – you often wonder why it took so long. This is also the experience at CytoVac, a Danish biotechnology company developing a new immunotherapy method for treatment of cancer based on live cells.
CytoVac's research is based on growing cell cultures that are cultivated in flasks. But ordinary cell culture flasks have their limitations. On the one hand they require quite a lot of space – but even more important is the fact that the liquid growth media as well as the size of flasks need to be changed frequently.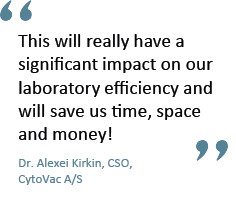 This is a process which easily takes up to 15 minutes and increases the risk of contamination of the culture.
Consequently, Russian Chief Scientist Dr. Alexei Kirkin at CytoVac, and product development specialists at the Copenhagen-based consultancy Medicologic, started to think about ways to improve cell culture flasks.
Social cells
The basic idea was to create physical conditions in the flask that would support the natural preferences of the cells. The cells that CytoVac work with are very "social" – i.e. they tend to group together whenever possible. Therefore, the idea was to create an environment where the cells could huddle together, but still have room to grow.
When cells grow in a normal cell culture flask with a completely flat surface many cells will be isolated and not grow well at low cell densities. But if the growing surface helped the cells to be in contact, the cells would thrive. Furthermore, if media could be changed easily in the flask without centrifugation and without having to remove all cells and media from the flask, the cells would be less disturbed or damaged. This would improve laboratory efficiency and cell therapy product quality significantly, resulting in reduced time to manufacture and potentially better patient treatment.
Grooves that make a difference
Medicologic is renowned for helping Nordic life science companies with product development issues spanning from research and development to RA and QA. "In this case, the combination of being able to view an entire process from the outside and specific experience with pharmaceutical med-tech devices, made it an obvious choice to approach Medicologic", according to Martin Roland, CEO at CytoVac.
The first design specifications described a flask with a structure allowing cells to group and stay in a certain place. However, if one could create a situation where few cells may lie closely together but still have room to grow when cell numbers increase – then the same flask could be used for both small and large volumes.
By using different 3-D printed prototypes, a flask with grooves on the bottom was soon developed by Medicologic. The grooves make it possible for the cell cultures to group and grow in each groove. Furthermore, the technician can select the exact number of grooves to be used for each batch. In this way you can gradually increase the part of the flask used and do not need to change to a larger flask as the number of cells increases.
Consequently, the laboratory may need fewer flasks – resulting in cost reductions. Next step was developing the first plastic prototypes. In order to reach a final flask, Medicologic was responsible for ensuring models, tools, molding, packaging and sterilization in close collaboration with selected sub-suppliers.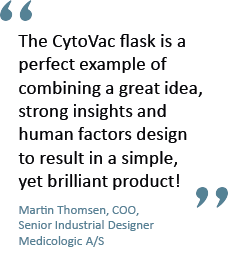 Within short time a final solution was found and CytoVac filed for patent protection. Dr. Kirkin is very satisfied with the new flask which still has no name. He says "… this really will have a significant impact on our laboratory efficiency and will save us both time, space and money – and I am sure other laboratories will follow suit, once they learn about this simple but yet very significant step towards more efficient use of flasks for this kind of cell development".
At Medicologic, Martin Thomsen, Senior Industrial Designer points to the fact that it was by combining the deep understanding of lab requirements and insights with development ideas and usability needs that this flask was born. "This is what innovation is about – by working closely with the actual users, we can combine user needs with all our med-tech knowledge and experience, and develop products that make a difference", he says.
Future possibilities
It is assumed that many other types of laboratories across the world using cell cultures will be able to benefit from the CytoVac flask. Next step includes putting the flask in production and ensuring CE certification. CEO at CytoVac, Martin Roland says: "It is definitely an advantage working with consultants that both have R&D and regulatory competencies. Our collaboration has been great! We have used Medicologic as a one-stop-shop and recently we have asked them also to help us with CE registration for the flask".
For more information, please contact:
Michael Funder
CEO / Managing Director
Direct (+45) 20 64 41 46
Email: mf@medicologic.com